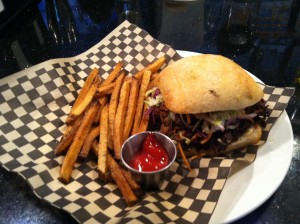 There are no good sports bars in North Seattle. Hell, there aren't even any really good sports bars in Seattle, at least compared to San Diego, although there are some kick-ass soccer bars (San Diego has those too though).
But one bar that I really wish more people went to is Jersey's Great Food & Sports at 1306 N 175th St in Shoreline. It's a funky little place tucked away off Aurora on 175th, but man they've got some really good food!
This is a picture of their Short Rib sandwich with coleslaw on top – I'm telling you it's frickin' awesome! Love the cibbatta bun especially, and the fries are addicting. This ain't no Sysco food wagon.
And they've got a Chipotle burger that's just unbelievable. Good food, cheap drinks and beer.. not sure why more people don't come here? Especially during football season. Especially in the North End where there ain't shit-all to hang out (what, Bleachers? Please.)
If you read their Yelp reviews, you'll see everyone typically loves the food, but dislikes the service, at least in the restaurant – wouldn't know, I always sit at the bar, or on the bar, or near the bar, just to make sure I get good service.. you know, the hard-to-ignore jerk?
I do think they're kind of floundering a little bit – are they a family restaurant? a sports bar? a disco/nightclub thing in the evening? Sheesh.
But in the end, the food is damn good, and if you need a place to eat and watch a sporting event, then you should keep Jersey's in mind!