Well, that was certainly quite a weekend! Talk about going from one extreme to the other..  but I'm getting ahead of myself.
First, a little about the space and the start of the weekend – I had heard about The Makers Space in the Twitterverse, and seen pictures from the opening night party and other events, but for some reason, I was thinking that it was down in South Lake Union, presumably because I remember reading about all those new condos on Lenora and just associated Lenora with SLU. So here I was researching parking options in SLU when I looked up the address to see where the building was only to discover that the building is actually in Belltown close to the Pike Place Market – whoops!
I busted out my trusty Seattle parking app (don't park downtown without it!) and discovered a previously unknown parking garage at 61 Lenora that has inexpensive $6.00/evening parking from 4pm-1:30am.. highly recommended! Of course, it was $23.00/day on Saturday, but that was for 7am to 11:45pm which I don't consider unreasonable at all.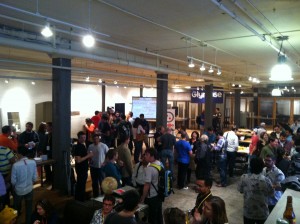 The space was scheduled to open at 5pm, and I arrived shortly after that, with networking in full swing.  I had some great conversations and met some really interesting people before the pitches started. My favorite conversation of the whole weekend was an extended conversation with @colindchapman about all things technical: Rails, ORM, MVCs and specifically Node.js + Express. Since it seemed we had similar tastes and complaints as far as MVCs go, he made a very persuasive case for exploring those, so that's on the agenda for the week.
An aside – if you're thinking about attending Startup Weekend, I would HIGHLY recommend attending the free Bootcamp in the days leading up to the event. You'll get an idea of how to integrate your laptop with how everyone else will likely be configured (with regard to file/code sharing), but even more so, you'll get a chance to network on a smaller scale, so when you arrive at the event, you already know a handful of people.
At my first SW, I just listened intently to the pitches, but I didn't realize how many there were going to be, and how hard it would be to keep track of them all. When all the pitches were completed, I could barely remember which ideas I liked, and who pitched them. I was determined not to make that mistake again, so I was jotting names and notes during the pitches this time around. There were some interesting pitches (Bookstream: netflix for books, MyStructure: universal PIM API, Startup Stock Market simulator, a live QR/bar-code feedback system from @colindchapman actually that I didn't catch the name of, among others) that I was surprised didn't get more traction, and frankly some ideas that I was surprised did get traction. C'est la vie!
A tip if you're going to pitch – state your name clearly at the beginning, speak clearly, and at least have a catchy name or phrase (doesn't have to be your final brand name) to repeat through and/or close with. I took notes on every pitch, and I have maybe 20% of the pitches that I missed the person's name because they didn't say it, or they mumbled it, or the concept name wasn't mentioned or wasn't clear so I didn't know what to call it. I think the reason some ideas don't get more traction is that they are unmemorable or don't stand out. If you don't take notes (like I did), it's hard to remember who said what, and having those things that stick in your memory really help!
I had planned to pitch this time – I contemplated several interesting ideas, had selected one which was solved a problem I am continuously having, had the pitch down in my head cold, and for whatever reason just didn't feel like "going for it".  In retrospect, I wish I would have pitched (and hopefully made it to the team selection round) but hindsight is 20/20. In the end, there wasn't any idea that I was super jazzed about – and I honestly just figured I would float around and see if anyone needed any help. It would give me a chance to meet and talk with everyone, and not have an uber-stressful weekend, plus I wanted to post more pictures, tweet and live-blog a bit more.
Well, that didn't happen. I ended up talking to Saia Taumoefolau who was in from Chicago on a lark who managed to snag a ticket at the last minute and planned to pitch an idea about sub-prime auto loans, something he was extremely knowledgeable and passionate about. He had already picked up a team member Jessi who had abandoned her (I thought) really interesting Crossfit idea to join his team. So my options were: float and coast, or jump in and help. I jumped, though I had no idea what I was jumping into.
For some reason, I thought we had more members to our team. It didn't really hit me until we actually sat down and started discussing the aspects of the project that I started to worry. We had no graphics people, we had no html/css wranglers and two people who had never been to a Startup Weekend before and thus had no idea what was going on or what to expect. It was going to be a long weekend..
(to be continued)